CEU Day at DCOTA
Wednesday June 29, 9:30AM to 5:00PM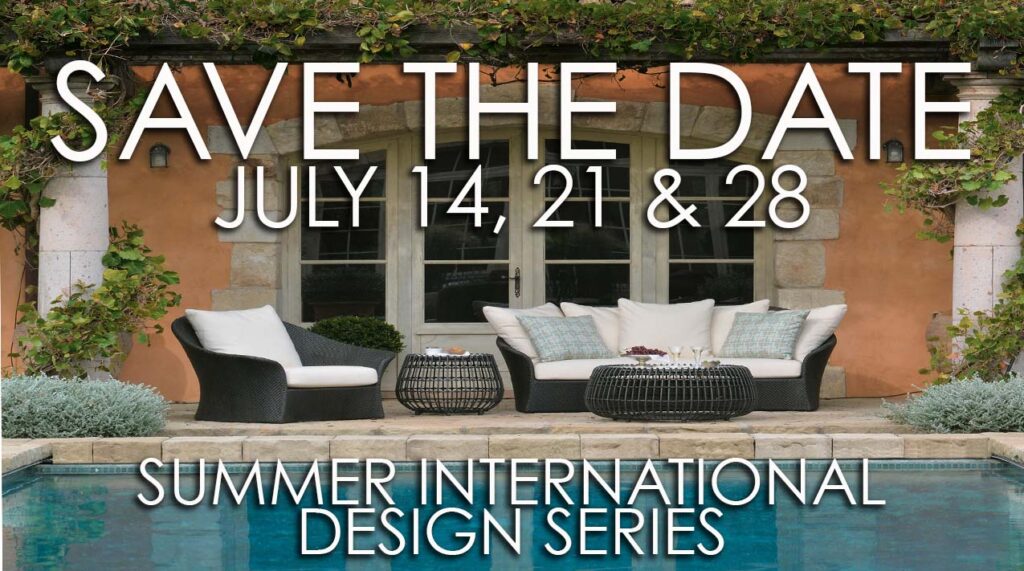 ---
Click HERE to reserve your seat for the CEU's below

---
9:30AM | Creating the Custom Spa Shower Experience
Designer Plumbing Studios, Suite C-270
IDCEC-102291-1005
Presented by Viviane Andrade of GESSI NORTH AMERICA, INC
This CEU will cover introductory information needed to successfully specify a custom spa shower experience for a client. The course will help designers
Understand why the market for custom spa showers is growing
Identify the key components of a custom spa shower
Ask the right questions of clients to design a spa shower that's right for them
Specify the types and configurations of shower heads that best suit a client
Understand what makes a quality shower head
Ensure proper water delivery and pressure for a spa shower
Specify the correct valves, diverters and controls for a spa shower
Correctly size a spa shower and locate elements
Enhance the shower experience if a client wants additional amenities
Gessi is an IDCEC and NKBA Approved Provider. Credit for this approved course is 0.1 CEU.
---
11:30AM | Incorporating Technology into Your Designs
Crestron Electronic Inc., Suite B-108
CRES17
Presented by Jenny Cortes
Does the thought of incorporating popular technologies, such as the Apple® iPad®, motorized shades, lighting control, and security systems seem overwhelming? In this fast paced course you'll learn the latest interior technology and how it shapes the experience of spaces you design. You will get inspiration for how you can expand the breadth of your practice by incorporating technology into your designs without needing to be a technology expert. By the end of this lecture the attendee will
Understand smart technology evolution in the past 50 years
Learn what interior technology is and how design meets technology
Discover interior technology function & benefits relative to: Infrastructure, Lighting, Media, Integration, and User Interfaces
Explore top interior technology residential applications, common misconceptions, and design considerations
Credits: 1 LU | Lunch will be provided.
---
1:30PM | Kitchen Styles
Florense, Suite B-112
Credit 0.1 CEU – ASID/IDCEC, AIA, and NKBA approved
Presented by Janet Salls of Sub-Zero
This course describes how kitchen styles have changed over the past 50 years and what demographic, cultural and social influences have brought us to this point. Based on insights from practicing kitchen designers, we look at the elements that make up a minimalist kitchen, including layout, styles, finishes and appliances. The course will allow designers to
Describe the history of kitchen design trends over the past century and how demographic, cultural and social influences have brought us to the age of minimalism
Discuss general design and layout principles of a minimalist luxury kitchen
Identify refrigeration options that contribute to a minimalist luxury kitchen
Define cooking options that contribute to a minimalist luxury kitchen
Attendees will enjoy desserts and coffee courtesy of Florense.
---
3:30PM | Power of Color
JD Staron, Suite C-370
IDCEC 0.1 LU / AIA 1.0 LU
Presented by Juan Carlos Rosas of Benjamin Moore
The course examines the emotions associated with each color with examples of color used successfully in popular culture, fashion, and retail. You will also learn how to distinguish between fads and trends.
Attendees will enjoy prosecco, assorted cheeses and sweets courtesy of J.D. Staron. To ensure receipt of a certificate for this course, please also register here: http://signin.aecdaily.com/register/YNI9623.