Winter Market 2017
DCOTA Winter Market 2017
Wednesday, February 1 & Thursday, February 2

---
WEDNESDAY SCHEDULE OF EVENTS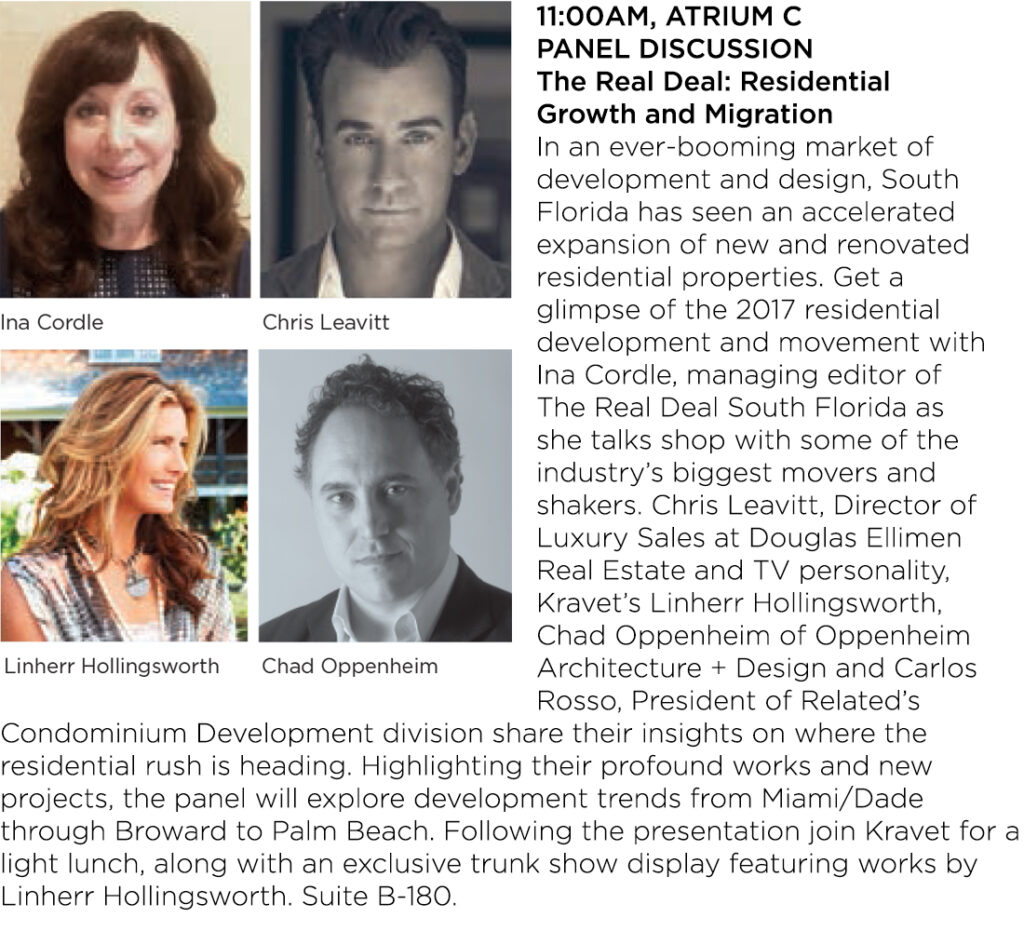 ---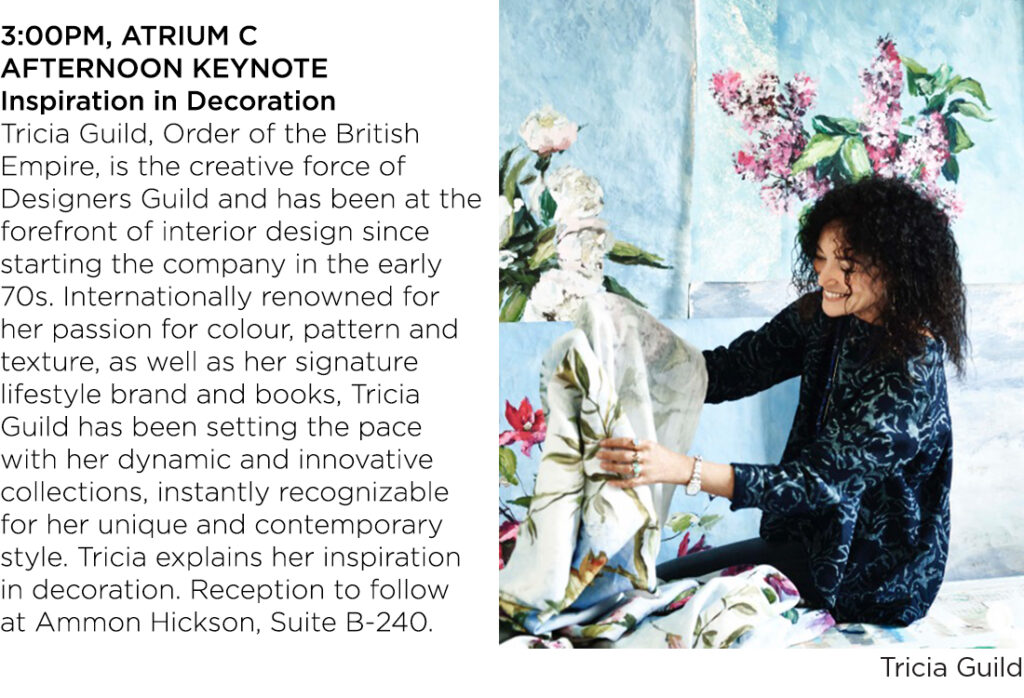 ---
SHOWROOM PROGRAMS
10:00AM, JANUS et Cie, Suite A-123
100 years of American Craftsmanship for the Outdoors (CEU Course, .1 credit)
Dive into the history of American craftsmanship with Gil Harper, President of Weatherend Estate Furniture, and explore the technical rigor of the construction process when using woods. Learn how this renewable resource is a perfect material for exterior projects by expanding custom capabilities and the importance of employing expert practices in bespoke construction. Attending industry professionals may also receive 0.1 CEU credits.
12:00PM–1:00PM, J.D. Staron, Suite C-370
Color Trends, Remote Places & How To Defeat Mass Market Competition by Jakub D. Staron, Designer and Weaver of Fine Carpets and Rugs
Inventing over 100 different weaving techniques, Jakub D. Staron is the current global and leading artist in the carpets and rugs industry. With dual master degrees in fine art and weaving, Jakub has extensive knowledge of this trade. For Jakub, producing something artistic is knowing the rules, and breaking them. Traveling to remote places and being hands on with dyers and weavers in Pakistan or a faraway culturally rich Bhutanese village – that's what inspires Staron. Join us to learn this millenarian art of weaving while Jakub explains his journey on selecting and creating edgy weaves, handpicking unique yarns with unparalleled depths of color, forward thinking textures, and creative use of scale and design.
12:00PM–1:00PM, John Rosselli & Associates, Suite A-128
Collection Introduction and Book Signing with Carleton Varney
John Rosselli & Associates is very excited to present the Dorothy Draper Fabrics & Wallcoverings collection. Come meet "Mr. Color" himself, Carleton Varney, company president for over 50 years, and one of the best known and most accomplished designers in the country. Interior decorator, design icon, author of over 30 books, and protégé of the legendary Dorothy Draper, with clients from Joan Crawford, Ethel Merman, the White House, to the Greenbrier, he has decorated hotels, resorts, and private residences the world over. Come let Carleton Varney teach you how to add color and happiness to your own home with his fabric collection at its new location, John Rosselli & Associates. Book signing and reception to follow.
1:00PM–2:00PM, The Shade Store, Suite C-158
The Ins and Outs of Licensing: How to Create a Successful Partnership
Join Business of Home Editor, Arianne Nardo, and local designers David Charette and Jay Britto from Britto Charette, and Allison Paladino, in The Shade Store's Showroom for an in-depth discussion on successful licensing deals. Many designers dream about having their own collection and when done right, a licensing deal can help grow a brand and become an additional stream of revenue. The panelists will share their thoughts on what goes into generating new licensing business revenue, how to select the right partner to achieve success in a crowded market, and the long-term impact.
1:00PM–3:00PM, J.D. Staron, Suite C-370
Jakub unveils 2017 Carpets and Rugs Designs and Colors Trend
Join us in our gallery to engage Jakub D. Staron's unmatched collections. Jakub has no bounds when it comes to design, making the experience unlike any other. Designers can mix and match any design, manufacturing style and fabric to create a one of a kind piece. The sky's the limit. No design is too difficult for Jakub. With exclusive mills globally located, Jakub ensures the best product on the market. The vibrant colors that Jakub D. Staron crafted are beyond compare, taking inspiration from countries like India and Thailand. Come and personally meet Jakub, who unveils 2017 carpets and rugs designs and color trends. Prosecco and delightful hors d'oeuvres will be served!
2:00PM–3:00PM, Donghia, Suite C-250
Ode to Color with Lori Weitzner
Donghia and Weitzner invite you to meet renowned textile designer Lori Weitzner as she presents a personal look at her new book, Ode to Color, an immersive, sensual and engaging journey into the world of color as it applies to culture, design, mood, and memory. Cocktail reception follows.
4:00PM, Crestron, Suite B-108
CEU Interior Technology 101 – Residential Design Meets Technology
Does the thought of incorporating popular smart technologies, such as the Apple® iPad®, motorized shades, lighting control, theater systems and security systems seem overwhelming? The communities of design and tech are collaborating more than ever before. In this CEU seminar you'll learn about and see demonstrations of the latest interior technology options and how it shapes the experience of spaces you design. We will provide you with inspiration on how you can differentiate yourself and your business by embracing this new dynamic practice of "Design Meets Technology." Earn 1 HSW credit.
4:00PM, Terrazzo and Surfaces, Suite A-124
Sustainability for Senior Living Facilities, Wellness Center and Spas
Focus on design for challenges affecting spas and wellness centers.
---
THURSDAY SCHEDULE OF EVENTS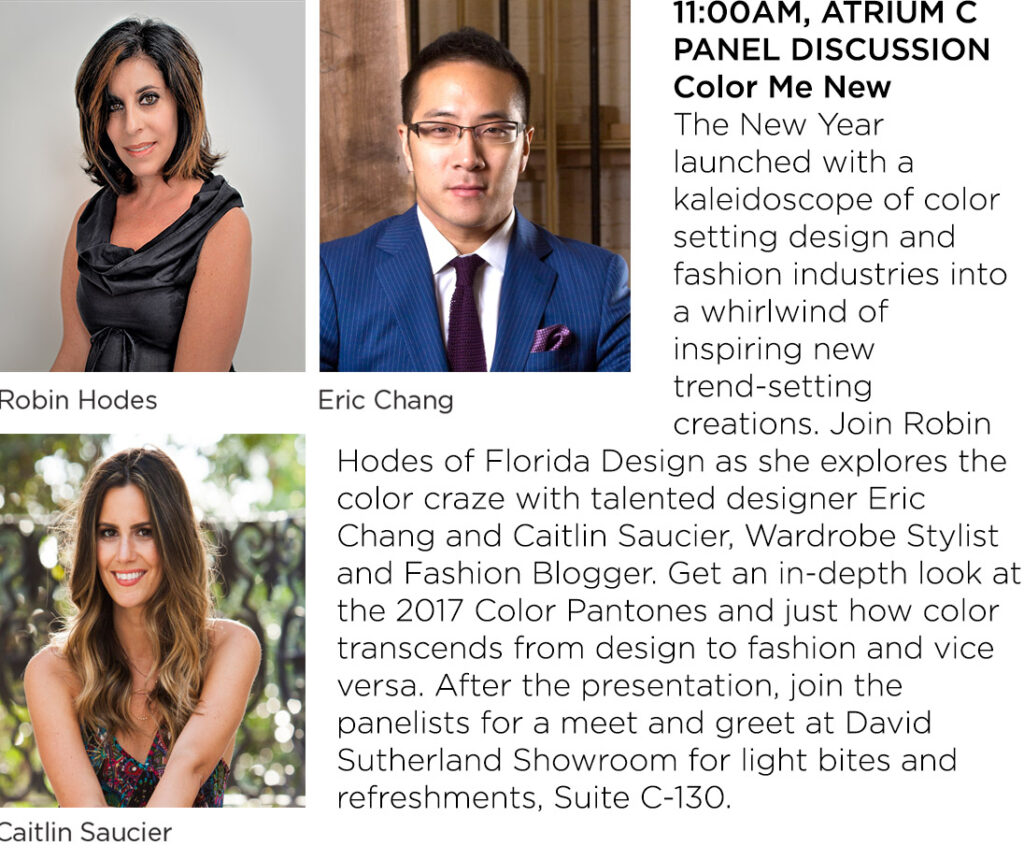 ---

---
SHOWROOM PROGRAMS
10:00AM, C Bar, Atrium C
Coffee by Design
Kick off your morning with a fresh cup of coffee, or two. Join Zachary Urbanski, the talented Barista at C Bar, for a coffee tasting and meet-and-greet. C Bar is the newest addition to DCOTA's culinary offerings, located in Atrium C and offers coffee not just brewed in-house, but designed for the most distinguished palate. The C Bar Barista hand selects each roast from around the world and customizes every cup to perfection, while offering brews of the day, assorted pastries and light fare. Outfitted with intimate bar-top seating, C Bar is a perfect destination to host client consults, or a grab-and-go cup of coffee to keep your day moving.
10:00AM–2:00PM, Crestron Ride and Drive
Technology Takeover
In a world where technology propels us towards efficiency and sustainability, it's a powerful movement when these luxuries coincide in home and transport. Join two industry leaders in exploring the latest innovations in residential/commercial and automotive technologies. Tesla Motors will be offering a VIP limited experience Ride and Drive, hosted in conjunction with an exclusive reception at Creston for test-drivers. Registration is required and regulations may apply. Visit https://www.tesla.com/event/tesla-creston-dcota.
1:00PM–2:00PM, Terrazzo And Surfaces, Suite A-124
Sustainability for Senior Living Facilities, Wellness Center and Spas
Focus on design for challenges affecting spas and wellness centers.
2:00PM, Crestron, Suite B-108
Get your shades on! Shading Solutions CEU
Are you up to date on the latest innovations in window treatments? Attend this CEU course to learn about shade solutions for residential design. Explore the differences between motorized and manual shading, the importance of fabric characteristics and how it plays into the performance of shading fabric. Discover how automated shading systems maximize daylight and energy efficiency. See live demonstrations of different shade installation types. Earn 1 HSW credit.
4:00PM–5:00PM, ADRIANA HOYOS, Suite C-350
Winter's Happy Hour
Join Adriana Hoyos for a very Happy Hour while continuing to celebrate our newest Collection, TEN. Be ready to indulge yourself in our unique designs, they are the force and aim to the lifestyle we hope to project.
---
OPEN HOUSE EVENTS
FEBRUARY 1
9:00AM–5:00PM, Century Furniture, Suite B-228
Come see what is new at Century Furniture Showroom! Delicious pastries all day!
2:00PM–3:00PM, DEDON, Suite C-120
From the Côte d'Azur to Mallorca, experience a true culture of outdoor living, the serene Mediterranean, while exploring our new 2017 collections: LorenzaBozzoli's fully upholstered and playful BRIXX; Barber & Osgerby's elemental teak collection TIBBO; and Jean-Marie Massaud's innovative and timeless DEAN. Please join us during Winter Market in DEDON's largest flagship showroom in the U.S. for a taste of barefoot luxury, refreshments and all of your favorite DEDON collections!
BOTH DAYS
9:00AM–5:00PM, Duralee, Suite C-100
See the latest in Duralee, Clarke + Clarke and JF Fabrics while joining us for some snacks!
9:00AM–5:00PM, Inside the Art of Craftsmanship, Suite C-332
Step Inside the Art of Craftsmanship
We would like to have this opportunity to have a nice cocktail hour with a variety of canapés and drinks, in which we can attract new people to our showroom and be fascinated by the doors and everything we can do. We would also like to receive them with a warm welcome and attend them with whatever inquiry they might have, while we introduce and expose our doors and all the work behind them.
9:00AM–5:00PM, Wired Custom Lighting, Suite C-236
Please join Wired Custom Lighting as they celebrate their 13th anniversary at the DCOTA. Preview the new spring introductions for 2017 and pick up Wired Custom Lighting's new 2017 catalog available in hardbound or flash drive. Lite Fare and refreshments served all day.
Terrazzo and Surfaces, Suite A-124
Terrazzo – Made in the US Precast Furniture, Counters, Stairs and More
Made in the U.S. precast furniture with temperature control. Terrazzo with LEED lights.
---
REGISTER FOR KEYNOTES AND SHOWROOM PROGRAMS HERE