New Trends, Lines, and Collections for the Summer
Posted on July 16th, 2015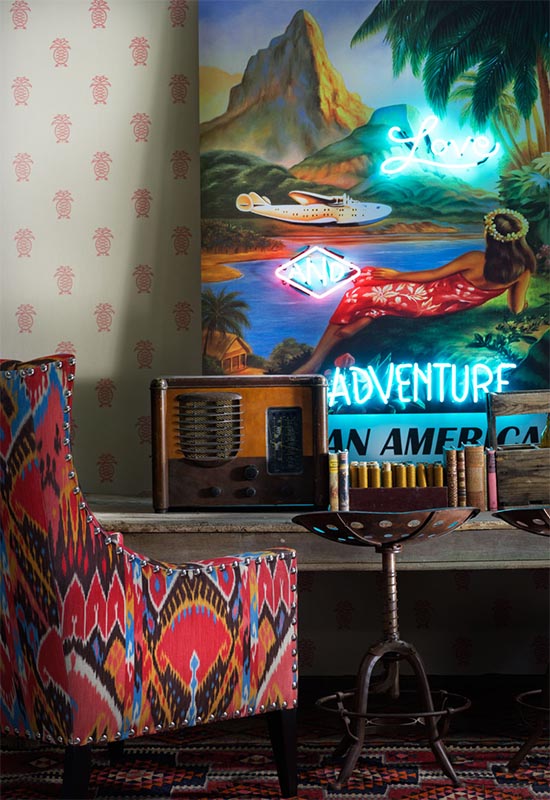 Andrew Martin | Suite C-126
In George Elliot's Mill on the Floss, 'the great attic under the high pitched roof with worm eaten shelves and dark rafters festooned with cobwebs' is described as weird and ghostly. But every child knows that the attic is a secret world of forgotten treasure. In the ancient steamer trunk, still lies the Boer War uniform of Great Uncle Jack, lost at Mafeking. In the far corner, next to the dust layered lead zoo animals and the broken clockwork train, sits a stiff bear who has lost his left paw. There is a mouse hiding in a stuffed owl. But the attic is also the resting place of darker family secrets. Up here is locked Rochester's mad wife and Dorian Gray's fading portrait.
---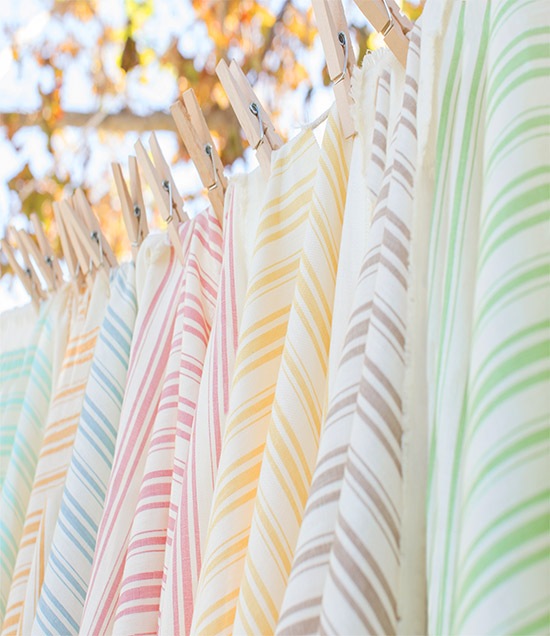 John Rosselli & Associates | Suite A-128
Fresh for Spring, the "Nightingale Stripe" is positive print on natural ground, designed by Le Gracieux, Inc. Offered in seven colors on 100% hemp linen. Coordinates available. On display and available at John Rosselli & Associates, Suite A-128.
---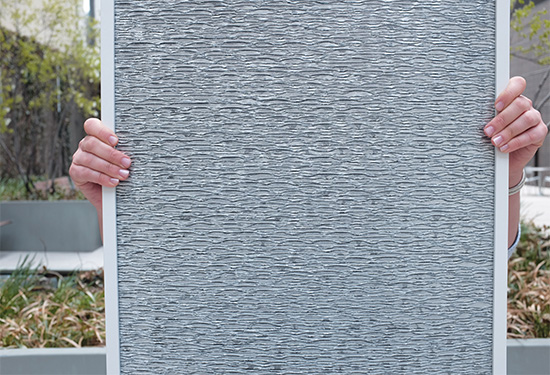 Innovations | Suite C-470
Bauxite
Our new Bauxite wallcovering evokes the tellurian beauty of natural minerals. Available in 7 geodic colors, from Crystal to Titanium, each one is as dazzling and naturally lustrous as the mineral it invokes. Bauxite incorporates thin, raised metallic ridges darting across the wallcovering's tactile material in graceful, horizontal waves, giving this sophisticated wallcovering a bold edge. These metallic ridges mimic the way many of nature's gemstones, minerals, and metals emerge from their understated stony origins.
---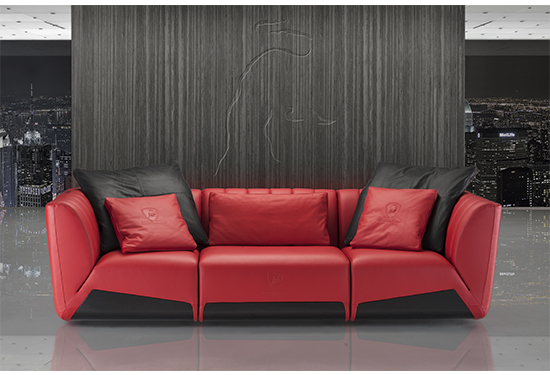 Tonino Lamborghini at Formitalia d | Suite C-316
Tonino Lamborghini Sepang 3 seat sofa. Racing red Alpine leather, black leather inserts, printed bull logo.
---
Aston Martin at Formitalia d | Suite C-316
Aston Martin Desk V004/B with 3 push & pull drawers on both sides, with optional multi plug, leather Deer 298 Root. Aston Martin President chair V049/A with high arms, leather Deer 298 Root, aluminum base with mechanism. Aston Martin Floor lamp V016 with aluminum and carbon fiber base, leather Deer 298 Root, led light.
---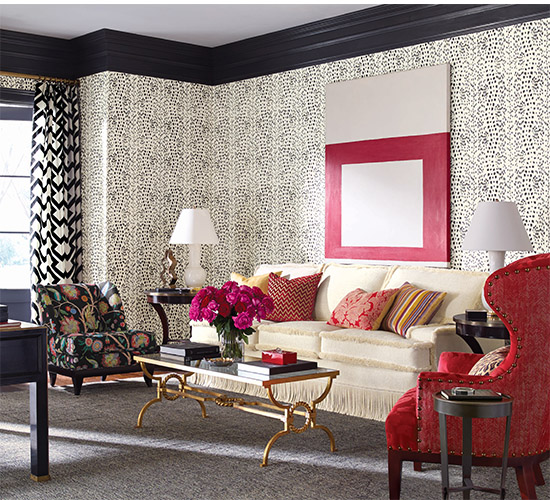 Brunschwig & Fils | Suite C-150
Brunschwig & Fils Maisonnette Collection
The brilliant prints, luxurious weaves and intricate embroideries in Brunschwig & Fils' Maisonnette Collection work seamlessly to create vibrant rooms that feel collected over time. Having borrowed its name from an earlier collection for the 1960's, this new range of fabrics includes patterns of ethnic, traditional and contemporary genres many of which are revived from the extensive Brunschwig & Fils archive and explored in visionary new combinations of style and color. As it retains the company's rich heritage of exceptional design and quality, Maisonnette presents endless opportunities to interplay classic elements with new patterns adding a contemporary feel to sophisticated interiors.
---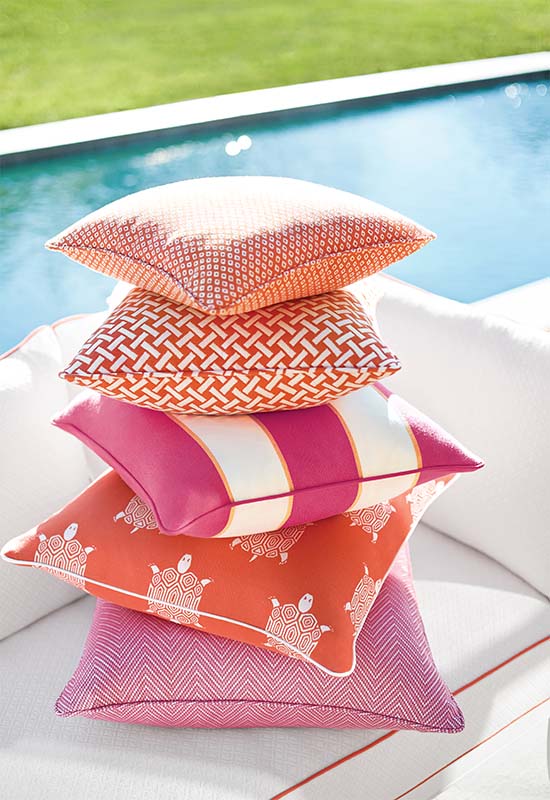 Jeffrey Michaels | Suite A-168
Thibaut proudly introduces the Portico collection: coordinated Sunbrella indoor/ outdoor woven fabrics. Sunbrella has been the most recognized and trusted name in performance fabrics for over 50 years. The high-performance fabrics in this vibrant collection are colorfast and stain-resistant, offering long-lasting beauty and durability. Coastal inspired designs, hip traditional patterns, companion stripes, plains and matelasses provide countless combinations for a clean style and custom look with Thibaut signature style. For more information, visit www.thibautdesign.com
---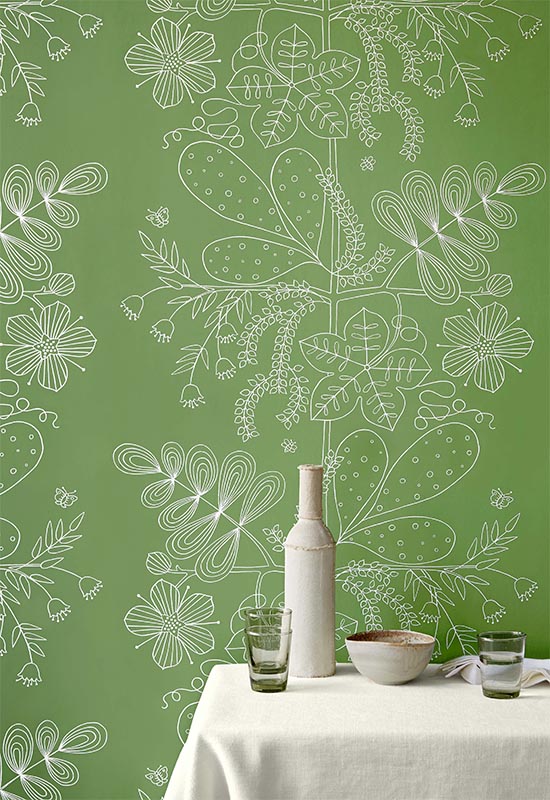 Schumacher | Suite A-108
Schumacher's Drawn from Nature Wallpapers
Schumacher invites you to come and see their latest wallpaper collection, Drawn from Nature. Schumacher's design studio reimagined the natural world in loose, abstracted forms in wallpaper patterns that celebrate the beauty of the outdoor, imbuing organic designs with a contemporary appeal in colors that range from joyous to chicly sophisticated. Stop by the showroom to view this fresh and playful wallpaper roundup.
---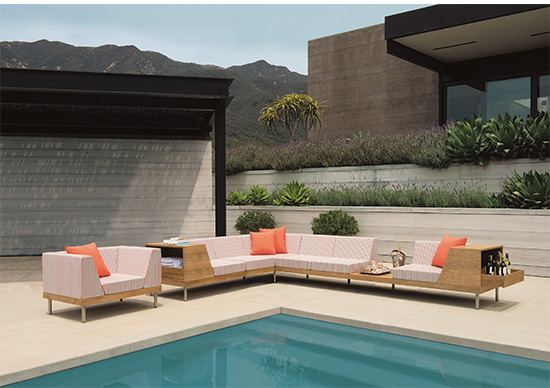 JANUS et Cie | Suite A-123
Introducing the Tiempo Collection
Tiempo designed by Jorge Pensi Design Studio delivers sophisticated seating that allures and endures in interior or exterior settings. The artistry of the collection can be found in its sleek  architectural design, impeccably crafted from premium solid teak and innovative teak veneer into beautiful geometric angles. The many module options combine to create countless configurations. A gamechanger in the industry, perfect for a formal lobby or executive office.
---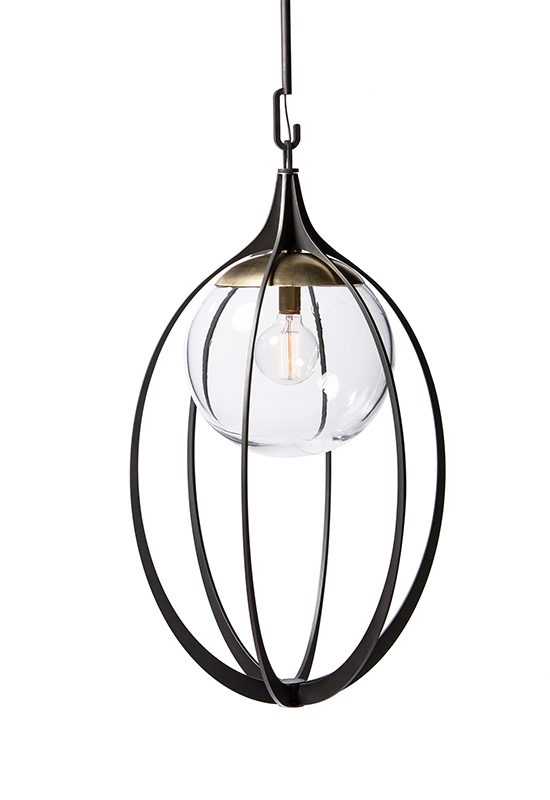 John Rosselli & Associates | Suite A-128
The "Oeuf Pendant" designed by Barry Dixon for AVRETT, is a perfect blend of brushed steel, antique brass, and a mouthblown orb. On display at and available thru John Rosselli & Associates, Suite A-128.
---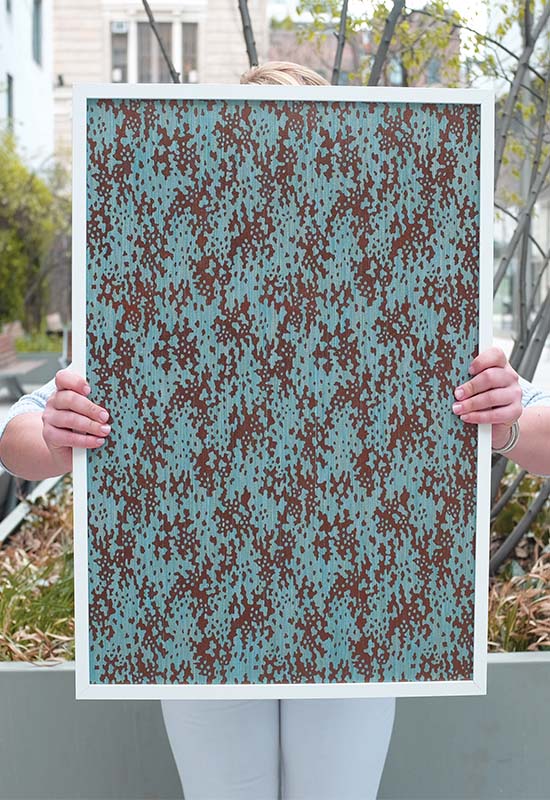 Innovations | Suite C-470
Ecorce
This season, we're thrilled to introduce Ecorce, a sumptuous new wallcovering that evokes nature and glamour in equal measure. This striking wallcovering features a unique splatter-like pattern, originally inspired by raindrops on a window pane on a springtime voyage to rural France. These delicate droplets manifest in the form of an opulent metallic deboss on a linen/polyester substrate of fine luminous threads.
---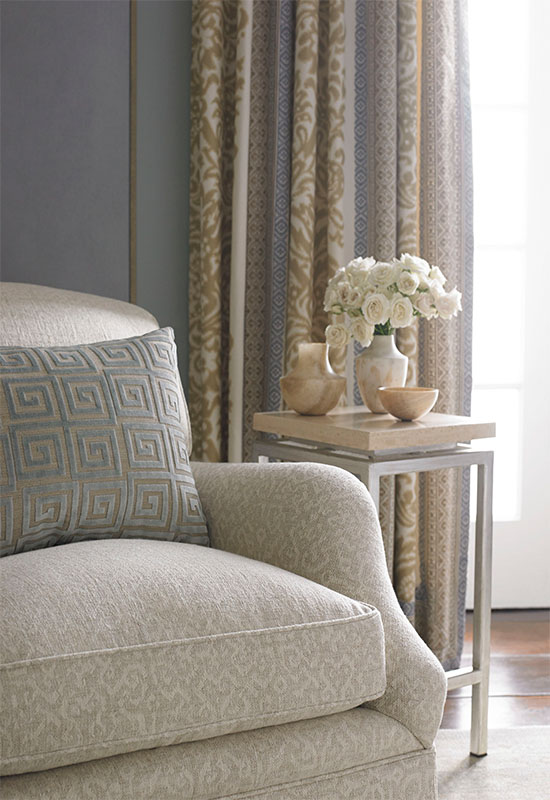 Lee Jofa | Suite C-150
Lee Jofa: Suzanne Kasler II
In her second collection, celebrated interior designer Suzanne Kasler draws inspiration from her personal collection of decorative textiles compiled during her world travels. The result is the perfect juxtaposition of casual yet refined style, created through modern graphics and ethnically-chic patterns in her signature palette of sophisticated neutrals and colors. Multicolored paisley, hand-embroidered damask, and bohemian-inspired suzani, along with decorative tapes in striking geometric patterns, offer a sophisticated touch to any stylish interior.
---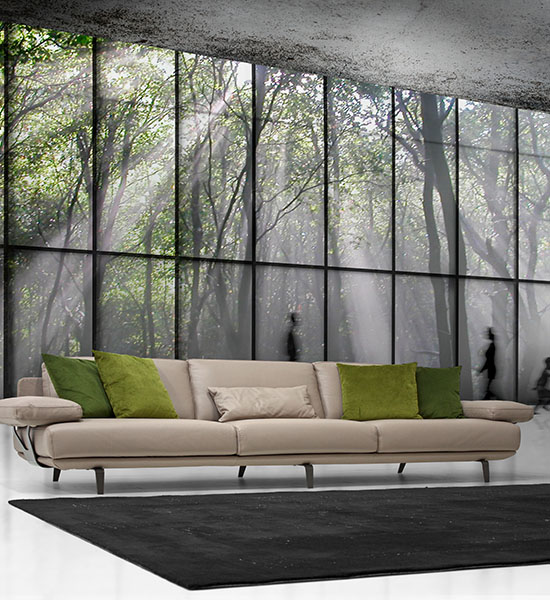 Aston Martin at Formitalia d | Suite C-316
Back cushions, seat and arms in leather Seta Talpa, frame in printed wave leather Seta Talpa, contrast stitching, lacquered metal structure. Pillows in velvet and leather Seta Talpa.
---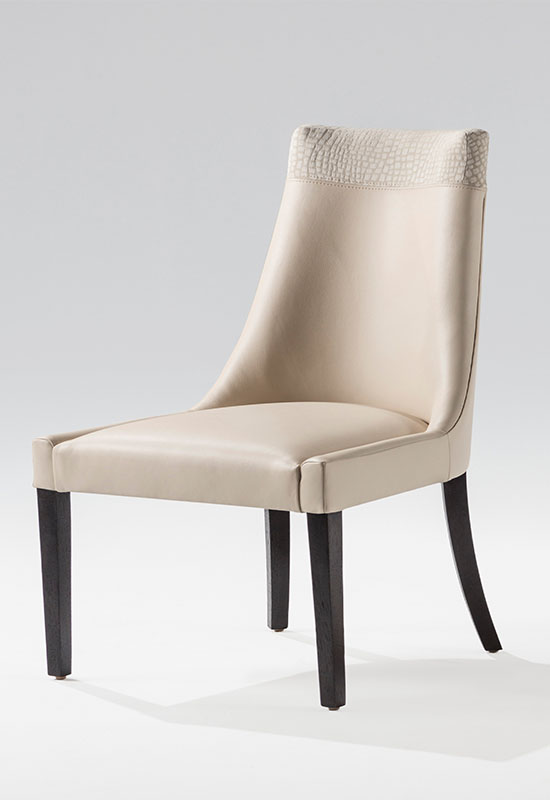 Adriana Hoyos | Suite C-350
Bolero Side Chair
The Bolero Side Chair is inspired by the torso of a Sevillana dancer, with the curves of her hips, waist and delicate shoulders. The slight bend in its legs provide a soft and very elegant look. The trim detail of the backrest combines both fabrics and leathers of similar tones to create a beautiful effect.
---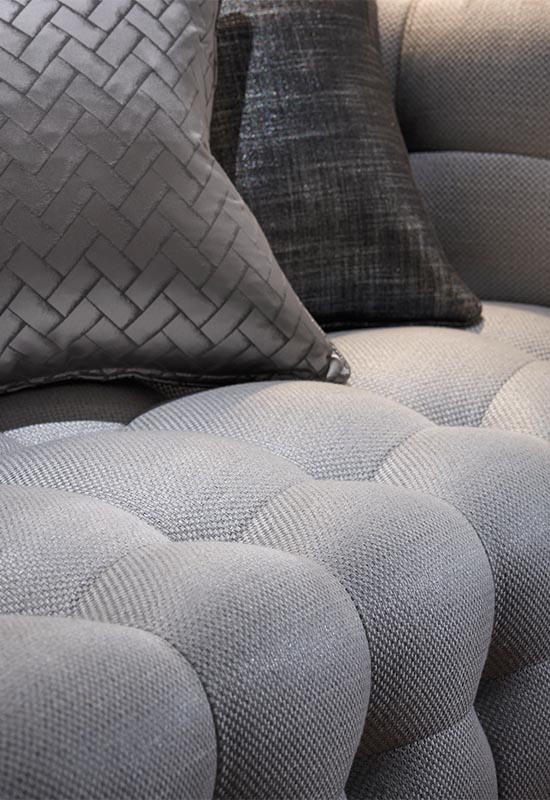 ROMO | Suite C-162
The Romo Group's latest Zinc Collection
Fontaine, a versatile collection of elegant plain weaves with intriguing textures that enhance and complement all new and existing Zinc Collections. Fontaine features a calendared small square weave, a convincing and stylish faux silk, a sumptuous chenille woven with lurex, a fluid velvet with a wonderful drape and a shaded herringbone design.
---
John Rosselli & Associates | Suite A-128
The "Howgate" linear wall box in nickel is a new introduction by VAUGHAN DESIGNS. Also available in brass. On display at and available thru John Rosselli & Associates, Suite A-128.
---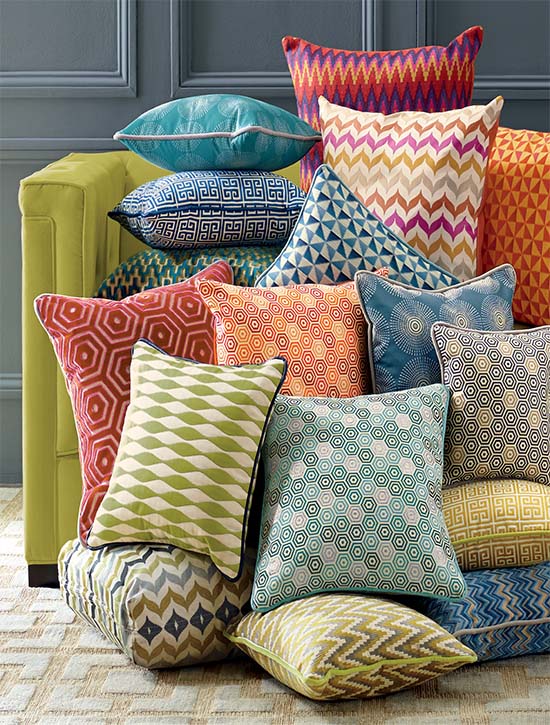 Kravet | Suite B-180
Jonathan Adler Performance Fabrics
Potter, designer, and author Jonathan Adler is dedicated to bringing Modern American Glamour to your life. Since launching in 1994, Jonathan has expanded his business from pottery into a full lifestyle collection—home accessories, decorative objects, tabletop collections, bedding, bath accessories, candles, furniture, rugs, pillows, lighting and more. And his design work can be found in top restaurants, hotels and houses around the world. Today, there are over 25 stores worldwide, a robust e-commerce site and successful wholesale distribution that reaches more than 1,000 retailers globally. Jonathan Adler's latest collection of performance fabrics for Kravet, Clarity, is filled with shapes inspired by his pottery, retro geometrics, flame stitches and color combinations that reflect his spirit of irreverent luxury.
---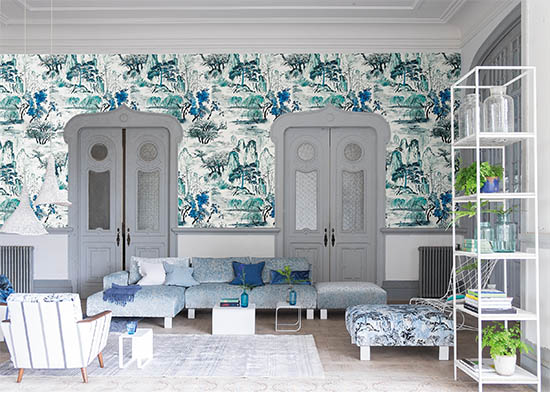 Ammon Hickson | Suite B-240
DESIGNERS GUILD
Welcome to the new Shanghai Garden Collection. Graceful expressions of nature strongly influenced by classical Chinese landscape painting and calligraphy are screen printed on linens, cottons and silks. The collection also includes wallcoverings in larger scale multicolor patterns. Featured is "Jade Temple", a stunningly beautiful brushwork landscape in the Chinese tradition of painterly watercolor washes and woodland creating this tranquil scenic view. Exclusively at Ammon Hickson.
---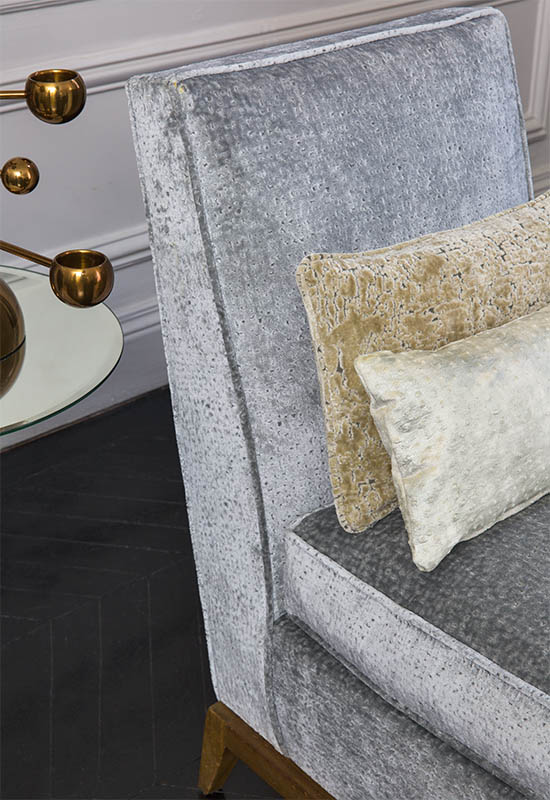 Cowtan & Tout | Suite B-254
The 2015 Larsen collection combines a playful assortment of textures such as velvet, satins, and the richness of linen, with powerful geometric compositions. Inspired by constructivist art, the collection exemplifies sophistication with notes of masculinity and modern aesthetic. On view at Cowtan & Tout, Suite B-254. Shown: OLSON, DUNCAN, BARNES.
---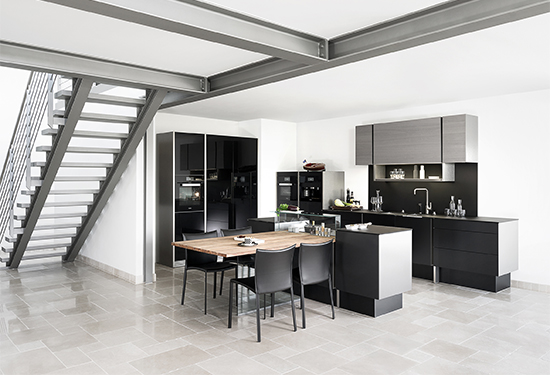 Poggenpohl | Suite C-138
P´7350 Design by PORSCHE DESIGN STUDIO – A perfect combination
Poggenpohl and Porsche Design Studio – both companies have been synonymous with unique design, functional perfection and innovative materials for decades now. Poggenpohl and Porsche Design Studio have already jointly developed the P-7340 kitchen concept and have proven that a combination of the finest handcrafted production and state-of-the-art technology results in an outstanding product. The philosophy is now being further pursued with the P-7350: the result is a pioneering kitchen architecture that emphasizes both the horizontal and vertical in a new interpretation of classic kitchen lines.
---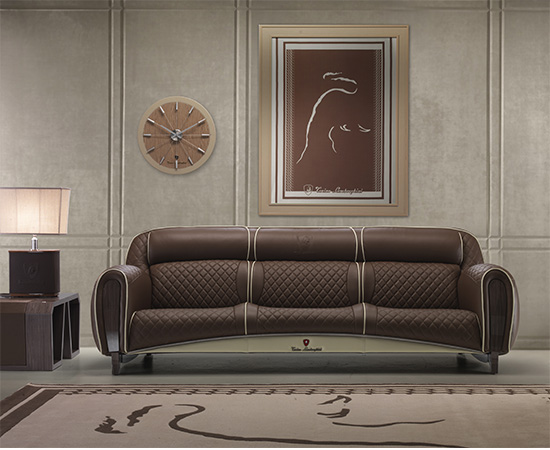 Tonino Lamborghini at Formitalia d | Suite C-316
Tonino Lamborghini Imola Carbon 3 seat sofa. Quilted back, seat and arm tops. Printed bull logo on the headrest. Veneer arms and base.