Attending Winter Market 2019
We look forward to welcoming you to our Winter Market on Thursday, February 7th here at DCOTA.
Below are important details regarding Market Day. For any other questions or assistance, please contact marketing@dcota.com.
We look forward to seeing you soon!
Follow and tag us on Instagram, Twitter and Facebook at @dcotadesign
Share your favorite market moments using #dcotawintermarket
---
---
ARRIVAL + EVENT DETAILS
DCOTA opens at 9 a.m. and closes at 7 p.m. on Market Day.
The first Keynote presentation will begin promptly at 10:30 a.m.
Check in: Atrium B at the Concierge Desk OR in Atrium C at the East Entrance. See more details under "Check In/Badge Pickup" below. 
DCOTA Directories will be available for sale at the Concierge Desk
2019 Designer Parking Pass forms will be available at check in; drop off completed form & pick up parking passes at Concierge Desk
---
Address
1855 Griffin Road, Dania Beach, FL 33004
Upon arrival, inform the guard at the gate that you are attending Winter Market.
Phone: (954) 920-7997
*Please plan to arrive at least 20 minutes early prior to your first registered program to allow for parking, check in, and time to find your seat.
---
Parking
Parking is complimentary for the day for all registered Winter Market guests. Please plan to arrive early, as many attendees arrive at the same time on Market Day.
Upon arrival, inform the guard at the gate that you are attending Winter Market.
We welcome you to Valet at our main entrance at Building B/Atrium B, which will be on your right-hand side after passing through the gate. There will be a sign noting "Designer Parking" where you may turn.
If you prefer to self park, the most convenient lot is located just next to the Valet area outside of our Main Entrance at Building B.
**DESIGNERS: Don't forget to register for your 2019 DCOTA Designer Parking Pass, which grants you complimentary parking in our reserved lot for the entire year. Forms will be available upon arrival at the Concierge Desk. Provide your form to showrooms that you shop at most frequently to have them sign off throughout the day, and return the form upon departing DCOTA to receive your pass.
---
Check In/Badge Pickup
Upon arrival, all registered attendees should check in at Atrium B, our Main Entrance, at the Concierge Desk, or at the Atrium C East Entrance.
Here, you will receive your day-of Market materials, including the most up-to-date itinerary and your Market Badge.
We suggest arriving 20-30 minutes early to ensure enough time for check in and allow for your prompt arrival to the scheduled programs.
**Those who do not have their badges may be denied entry into RSVP-required Showroom Programs.
---
Grab a Bite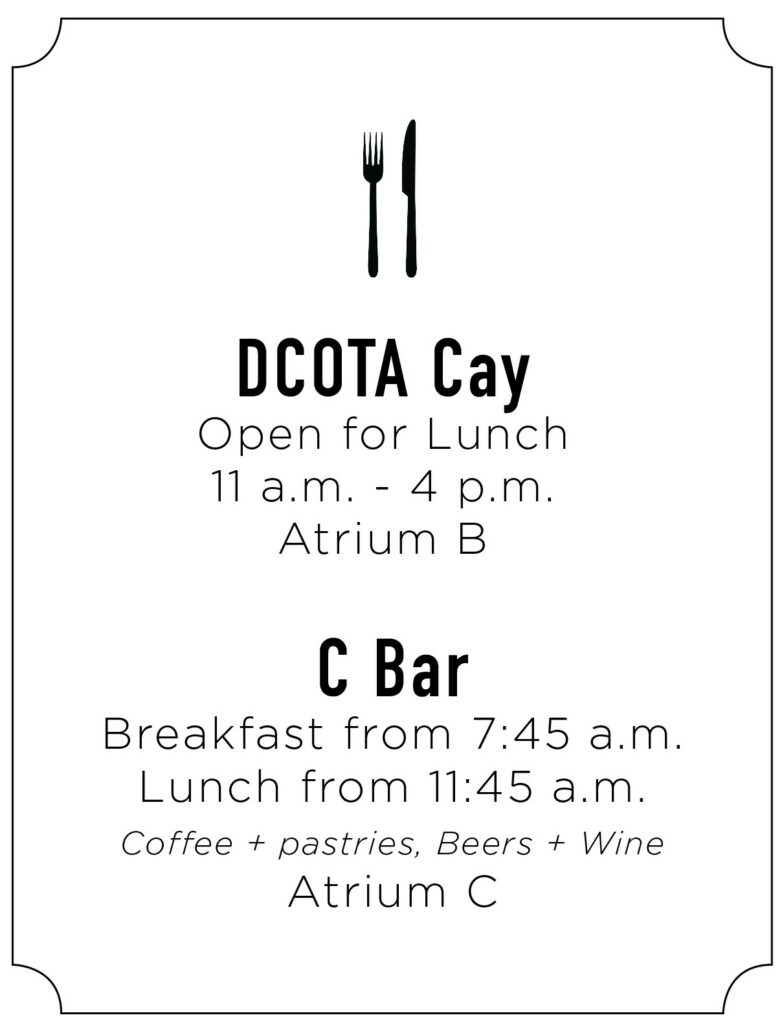 ---
A NOTE ON MARKET ETIQUETTE
The Design Center of the Americas' Market events are organized in order to educate, inform, and celebrate our industry partners & design colleagues, with limited space and seating available for participation.
We ask that all attendees respect the proper etiquette and nature of these programs as it relates to: business casual attire, promptness, etc.
Though DCOTA is open to both trade professionals and consumers, it is at the discretion of each showroom to decide if an individual attendee is permitted to enter and participate in a program.
---