MAISON&OBJET 2016
Tuesday, May 10 through Friday, May 13

---
DCOTA is proud to again partner with the second edition of MAISON&OBJET Americas. Success of last year's launch recognizes Miami as the design capital of the Western Hemisphere. MAISON&OBJET has triumphed in uniting a strong and influential creative community through our Rising Talents program, and our Lifestyle Summit which will host superstars from both continents like Humberto and Fernando Campana, Alan Faena, our Designer of the Year, Rafael de Cárdenas.
The Miami Experience will host an array of first-class events from design centers to local art galleries and museums, enabling clients, colleagues and friends to come together. As previously discussed, we will also be offering complimentary shuttle service running to and from the show and DCOTA. We welcome all to participate in our complimentary shuttle buses, and DCOTA special programs/receptions.
---
Select DCOTA Showrooms will host cocktail receptions for MAISON&OBJET attendees daily from 3PM-5PM:
3 p.m. to 5 p.m.
TUESDAY MAY 10th
Cocktail Reception:
Florense
Florense is a Brazilian manufacturer of high-end, sustainable cabinetry, closets, and furniture, as well as custom-made products for hospitality.
DCOTA – Suite: B-112
1855 Griffin Road, Dania Beach, FL 33004
Florenseusa.com
3 p.m. to 5 p.m.
WEDNESDAY MAY 11th
Cocktail Reception:
VERSACE HOME by Abitare
The entire collection from Versace Home, from furniture, to accessories, wall papers and flooring is on display at Abitare.
Suite C-328
abitareusa.com
ABITARE-MODERN
Showcasing modern design furniture and Interiors from high-end Italian manufacturers, such as: Rimadesio, Ceccotti Collezioni, Minotti Italia, Faravelli, and more.
Suite C-324
abitareusa.com
FORMITALIA d by Abitare
Luxury Interiors and accessories for exclusive homes, offices, hotels and yachts. Product lines: Aston Martin and Tonino Lamborghini Casa.
Suite C-316
abitareusa.com
3 p.m. to 5 p.m.
THURSDAY MAY 12th
Cocktail Reception:
DEDON
As a manufacturer of exclusive outdoor furniture, DEDON is one of the world's leading providers in this industry.  DEDON furniture is created in collaboration with international designers, based on German standards of quality, and is manufactured by hand in traditional fashion by trained artisans on the island of Cebu in the Philippines. In this way, every piece of furniture embodies the combination of modern technology and century-old craftsmanship.
DCOTA – Suite C-120
1855 Griffin Road, Dania Beach, FL 33004
---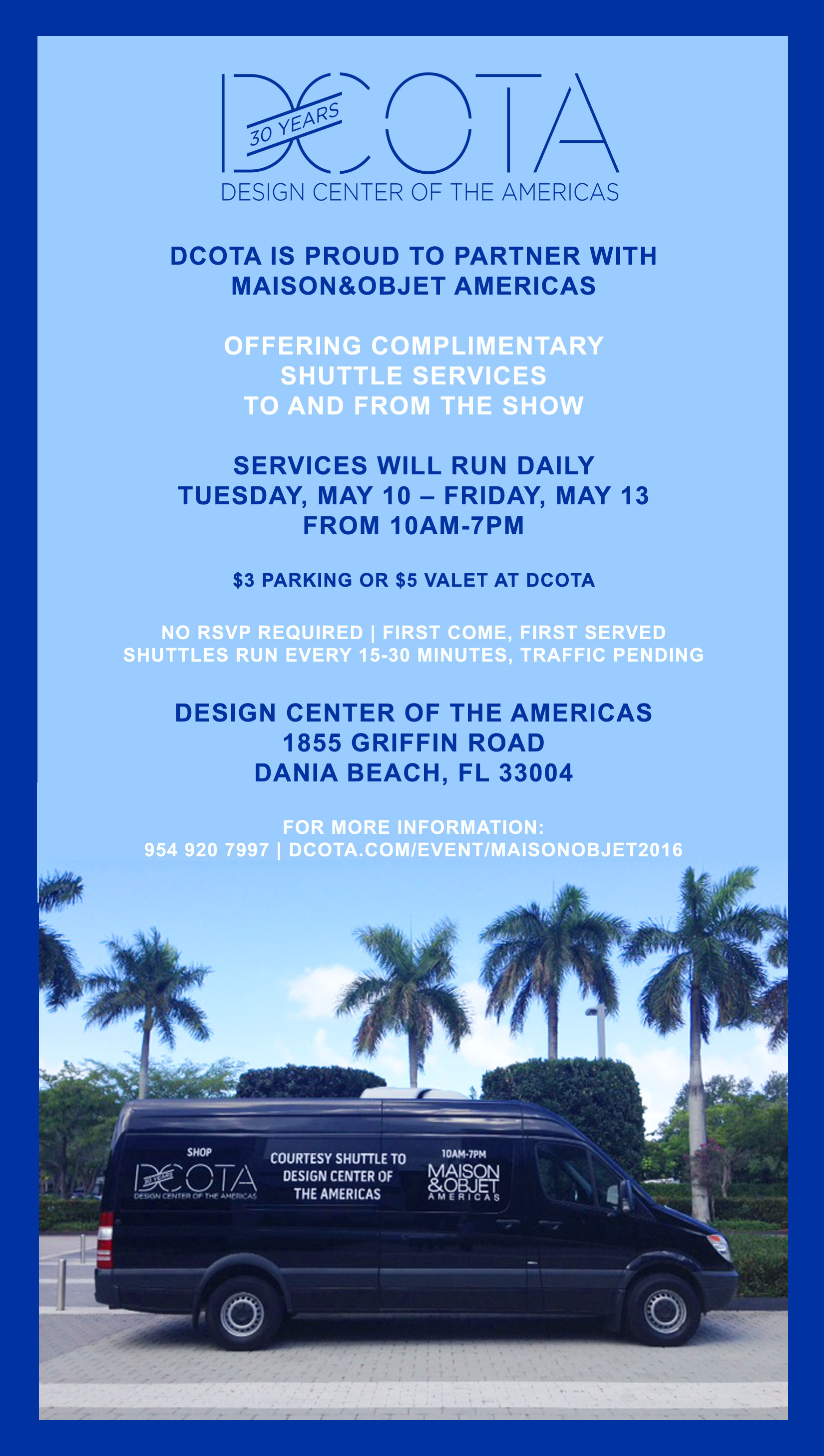 ---
Check out the latest product news here.